CHESTNUT RIDGE CHRISTIAN ACADEMY
Christ-Centered K-12 Education in Uniontown, PA
First Year Half Price Tuition!
If you've never attended Chestnut Ridge Christian Academy before, you can receive half-price tuition for the 2023-2024 school year for grades 1-11! For more information, please call 724.439.1090 or email crcapa4u@gmail.com
KINDERGARTEN
We offer 4-Year Old Kindergarten and 5-Year-Old Kindergarten to start your young one with an excellent foundation!
ELEMENTARY GRADES
Our 1st through 6th grades are a strong foundation for students to grow in Christ and excel in the core educational building blocks.
SECONDARY GRADES
We provide a Christ-Centered, academically rigorous education that helps our students learn and fulfill God's Plan for their lives.
Big City Education with a Small Town Atmosphere…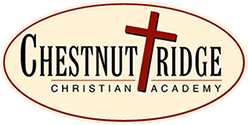 Chestnut Ridge Christian Academy
115 Downer Avenue Uniontown, PA 15401
Office: 724.439.1090
Fax: 724.439.4540
crcapa4u@gmail.com
Have Questions? Contact Us!